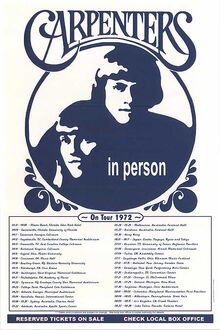 1971
February 3, 1971 KRNT Theatre, Des Moines, IA
April 21, 1971 Baylor University, Waco, TX
April 22, 1971 East Texas State University, Commerce, TC
April 24, 1971 Taylor County Coliseum, Abilene, TX
May 2, 1971 Stokely Athletics Center, Knoxville, TN (supported by Mark Lindsay)
May 6, 1971 Carolina Coliseum, Columbia, SC
May 10, 1971 Music Hall, Boston, MA
May 14, 1971 Carnegie Hall, New York City, NY
July 7, 1971 Civic Center, San Francisco, CA (supported by Mac Davis)
July 8, 1971 Selland Arena, Fresno, CA
July 10, 1971 Washington State Coliseum, Seattle, WA
July 16, 1971 Hollywood Bowl, Los Angeles, CA
August 11, 1971 Blossom Music Center, Cuyahoga Falls, OH
August 26-27, 1971 Ohio State Fairgrounds, Columbus, OH
October 20, 1971 Henry Levitt Arena, Wichita, KS
October 21, 1971 Oklahoma State University, Stillwater, OK
October 22, 1971 G. Rolie White Auditorium, College Station, TX
October 24, 1971 Municipal Auditorium, San Antonio, TX
November 10, 1971 University of Dayton Arena, Dayton, OH
November 13, 1971 Municipal Auditorium, Nashville, TN
November 23, 1971 Rochester Community War Memorial, Rochester, NY
1972
January 14, 1972 Brigham Young University, George Smith, Provo, UT
January 15, 1972 Utah State University, Assembly Center, Logan, UT
January 18, 1972 Civic Auditorium, Albuquerque, NM
January 19, 1972 County Coliseum, El Paso, TX
January 20, 1972 Convention Center, Tucson, AZ
January 21, 1972 Arizona State University, Grady Gammage Auditorium, Tempe, AZ
January 22, 1972 Convention Center, Anaheim, CA
January 23, 1972 Convention Hall, San Diego, CA
March 31-April 8, 1972 Eden Rock Hotel, Miami Beach, FL
April 9th Gainesville, Florida, University of Florida
April 10th Hollywood, Academy Awards, TV appearance
April 11th Savannah, Georgia, Coliseum
April 12th Fayetteville, NC, Cumberland County Memorial Auditorium
April 13th Greenville, NC, East Caroline College Coliseum
April 14th Richmond, Virginia, Coliseum
April 15th Oxford, Ohio, Miami University
April 16th Cincinnati, OH, Music Hall
April 18th Bowling Green, KY, Western Kentucky University
April 19th Pittsburgh, PA, Civic Arena
April 20th Huntington, West Virginia, Marshall University, Memorial Fieldhouse
April 21st Philadelphia, PA, Academy of Music
April 22nd Syracuse, NY, Onodaga County War Memorial Auditorium
April 23rd College Park, Maryland, University of Maryland-Cole Fieldhouse
April 25th Washington, DC, Record Industry Annual Awards Dinner, Hilton Hotel
April 29th Atlanta, Georgia, Municipal Auditorium
May 4th Honolulu, Hawaii, International Center
May 8-20th Sydney, Australia, Chevron Hotel
May 22nd Adelaide, Australia, Apollo Sports Center
May 24-25th Melbourne, Australia, Festival Hall
May 27th Brisbane, Australia, Festival Hall
May 30, 1972 Hong Kong
June 1-11th Japan, Osaka, Nagoya, Kyoto and Tokyo
July 7th Houston, TX, University of Texas, Hofheniz Pavilion
July 8th Shreveport, Louisiana, Hirsch Memorial Coliseum
July 9, 1972 Tulsa, OK - Assembly Center
July 11th Cuyahoga Falls, Ohio, Blossom Music Festival
July 12 Johnstown, Pennsylvania, Cambria County War Memorial
July 13-15th Holmdel, New Jersey, Garden State
July 16th Saratoga, New York, Performing Arts Center
July 20th Indianapolis, IN, Convention Center
July 21-23rd Chicago, IL, McCormack Place
July 26-29th Detroit, Michigan, Pine Knob
July 30th Saginaw, Michigan, Civic Auditorium
Aug. 1-3rd Columbia, Maryland, Merriweather Post Pavilion
Aug. 4-5th Allentown, Pennsylvania, State Fair
Aug. 9-15th Los Angeles, CA, Greek Theater
August 18th Morrison, CO, Red Rocks Amphitheater
Aug. 22-28th Lake Tahoe, Nevada, Sahara Hotel
September 20th – October 3rd, Riviera Hotel, Las Vegas
Oct. 4th Salt Lake City, University of Utah
Oct. 5th Boise, ID, Boise State College
Oct. 6th Seattle, WA, Center Arena
Oct. 7th Spokane, WA, Coliseum
Oct. 8th Portland, OR, Coliseum
Oct. 11th Lincoln, NB, Pershing
Oct. 12th Sioux City, IA, Muni. Auditorium
Oct. 13th Omaha, NB, Civic Auditorium
Oct. 14th Fargo, ND, Civic Auditorium
Oct. 15th Bismark, ND, Civic Arena
Oct. 16th Rochester, MN, Mayo Civic
Oct. 18th Duluth, MN, Arena
Oct. 19th Waterloo, IA, McElroy Auditorium
Oct. 20th Sioux Falls, SD, Arena
Oct. 21st Des Moines, IA
Oct. 22nd Davenport, IA, Masonic
Oct. 24th Milwaukee, WI, Auditorium
Oct. 25th Charleston, IL, Eastern IL Gym
Oct. 26th Owensboro, KY, Sports Center
Oct. 27th Peoria, IL, Bradley University
Oct. 28th Terre Haute, IN, Indiana State College
Nov. 10th Ft. Wayne, IN, Mem. Coliseum
Nov. 11th Lafayette, IN, Purdue
Nov. 12th Charleston, West Virginia, Civic Center
Nov. 14th New Haven, CT, War Memorial
Nov. 15th Boston, MA, Music Hall
Nov. 16th Utica, NY, Memorial Auditorium
Nov. 17th Scranton, PA, Catholic Youth Center
Nov. 18th Norfolk, VA, Scope
Nov. 19th Greensboro, NC, Coliseum
Nov. 20th Raleigh, NC, Dorton Arena
Nov. 21st Charleston, SC, Muni. Auditorium
Nov. 22nd Macon, CA, Coliseum
Nov. 23rd Jackson, MS, Memorial Auditorium
Nov. 24th Lake Charles, LA, Auditorium
Nov. 25th Shreveport, LA, Hirsch Memorial Coliseum
Nov. 26th Little Rock, AR, Robinson Theater
December – Christmas Vacation!
1973
February 9th Sacramento, California, The Sacramento Memorial Auditorium
February 11th Anaheim, California, Anaheim Convention Center
April 13th Lubbock, Texas, Lubbock Municipal Auditorium
April 17th San Antonio, Texas, Convention Center Arena
May 3rd Tacoma, Washington, Pacific Lutheran University
May 4th Corvallis, Oregon, Gill Coliseum, Oregon State University
May 5, 1973 Bohler Gym, Washington State University, Pullman, WA
May 6th Portland, Oregon
May 11th Bozeman, Montana, State Fieldhouse
May 12th Missoula, Montana, University of Montana State
May 13th Twin Falls, Idaho, University of Southern Idaho
May 18th San Diego, California, Sports Arena
May 19th Claremont, California, Claremont College
May 20th Bakersfield, California
May 23rd Fresno, California, Selland Arena
May 24-28th San Carlos, California, Circle Star Theater
June 22nd Lake Charles, Louisiana Auditorium
June 23rd Shreveport, Louisiana, Hirsch Memorial Coliseum
June 24th Birmingham, Alabama, Municipal Auditorium
June 25th Atlanta, Georgia, Civic Center Auditorium
June 26th Chattanooga, Tennessee, Memorial Auditorium
June 27th Knoxville, Tennessee, Civic Coliseum
June 28th Roanoke, Virginia, Civic Center
June 29–July 1, 1973 Merriweather Post Pavillion, Columbia, MD
July 3-7 Valley Forge, Pennsylvania
July 10-15th Wallingford, Connecticut
July 16-21st Garden State, New Jersey
July 22nd Saratoga Springs, New York
July 24th Cuyahoga Falls, Ohio, Blossom Music Fair
July 25-29th Detroit, Michigan, Pine Knob
Aug. 10th – Santa Barbara, CA
Aug. 13-19th Los Angeles, California, Universal Studios
Aug. 21 – Sept 3rd – Lake Tahoe, Nevada, Sahara Hotel
Sept. 26 – Oct. 9th – Las Vegas, Nevada, Riviera Hotel
Oct. 9th – Las Vegas. Nevada
Oct. 10th – Ogden, Utah, Weber State College
Oct. 11th – Rexburg, Idaho, Ricks College
Oct. 12th – Provo, Utah, Brigham Young University
Oct. 17th – Portland, Maine, Exposition Building
Oct. 18th – Bangor, Maine, Municipal Auditorium
Oct. 19th – SpringField, Massachusetts, Civic Center
Oct. 20th – Troy, New York, RPI Fieldhouse
Oct. 21st – Singhampton, New York, Broom City Vets Memorial
Oct. 22nd – Buffalo,. New York, Kleinhans Hall
Oct. 23rd – Kitchener, Ontario, Memorial Auditorium (Canada)
Oct. 24th – London, Ontario, Treasure Island Auditorium
Oct. 25th – Kalamazoo, MI, Western Michigan University
Oct. 26th – Muncie, IN, Ball State University-Emens Auditorium
Oct. 27th – South Bend, IN, University-Convocation
October 28, 1973 Municipal Stadium, Evansville, IN
Nov. 9-10 – Chicago, Illinois, Arie Crown Theater
Nov. 11th – Rockford. Illinois, Rock vE1lsy College
Nov. 12th – Lahkosh, Wisconsin, Wisconsin State University
Nov. 13th – Macomb. Illinois, Western III University
Nov. 14th – Columbus. Ohio, Mershon Auditorium
Nov. 15th – Louisville, Kentucky, Convention Center
Nov. 16th – St. Louis, Missouri, Kiel Opera House
Nov. 17th – Nashville, Tennessee, Auditorium
Nov. 18th – Memphis, Tennessee, Mid South College
Nov. 19th – Starkville, Mississippi, Mississippi State University
Nov. 20th Jackson, Mississippi, Coliseum
Nov. 21st Moblie, Alabama, Municipal Auditorium
Nov. 22nd Macon, Georgia, Coliseum
Nov. 23rd Savannah, Georgia, Convention Center
Nov. 24th Orlando, Florida, Sports Stadium
Nov. 25th St. Petersburg, Florida, Bayfront Center
1974
Feb. 1st – Phoenix, Arizona
Feb. 2nd- Tucson, Arizona
Feb. 3rd – El Paso, Texas
Feb. 7-27th – European tour
Feb. 27 – Odeon Theater, Birmingham, England
March 2nd – Grammy Awards. LA
April 4th – Bowling Green, KY
April 5th – Pittsburgh. PA
April 6th – Philadelphia. PA
April 7th – Utica, NY
April 8-14th – Westbury Music Fair, NY
April 15th – Raleigh, North Carolina
April 16th – Richmond, VA
April 17th – Beckley, West VA
April 18th – Wheeling, West VA
April 19th – Hershey, PA
April 20th – Syracuse, NY, Onondaga War Memorial
April 21st – Niagara Falls, NY
April 30th – Boston MA, Symphony Hall
May 8-21st Riviera, Las Vegas
May 27-June 12th – Japanese tour
June 14-15th – Honolulu, Hawaii
July 11th – Eugene, OR, McArthur Court
July 12th – Seattle, WA
July 13th – Portland. OR
July 14th – Spokane. WA
Aug. 14-27 – Sahara/Lake Tahoe
Oct. 9-22nd – Riviera. Las Vegas
Oct.24.- Davenport/Iowa
Oct. 25th – Minneapolis, MN
Oct. 26th – Champagne, IL
Oct. 27. – Carbondale/Illinois
Oct. 28. – Indianapolis/Indiana
Oct. 29. – Muskegon/Michigan
Oct. 30 – Milwaukee, WI
Oct. 31. – Naperville/Illinois
Nov. 1-3rd – Chicago, IL
Nov. 14th – Boise, ID
Nov. 27th – Dec.1 Circle Star, San Carlos, CA

1975
January 11-15 Stateline, Nevada, Harrahs Lake Tahoe
April 5th Ames, Iowa State
April 4th Hayes, Kansas, Kansas State
April 5th Denver, Colorado, Auditorium
April 7th Colorado Springs, Colorado, Air Force Academy
April 15th West Palm Beach, Florida, Auditorium
April 16th Lakeland, Florida, Arena
April 17th Jacksonville, Florida, Auditorium
April 18 & 19th Atlanta, Georgia, Civic Auditorium
April 20th Columbia, South Carolina, Coliseum
April 21st – Fayetteville, N.C. at the Cumberland County Memorial Arena
April 22-27th Valley Forge, Pennsylvania, Music Theater
May 9th – Topeka, Kansas – Municipal
May 10th & 11th – Kansas City, Kansas – Memoria1 Hall
May 12th – Sioux City, Iowa – Municipal Aud.
May 13th – Bismark, ND – Civic Arena
May 19-25, 1975 Westchester Premier Theater, Tarytown, NY (2 shows on 24-25th 7.30 & 10.30)
May 29th to June 11th Las Vegas, Nevada, Riviera Hotel
July 11th Toronto, Canada
July 12-15th Toronto, Canada, O'Keefe Center
July 14-15th Cuyahoga Falls, Ohio
July 16-19th Independence, Michigan, Pine Knob
July 20th Erie, Pennsylvania, County Field House
July 21-26th Wallingford, Connecticut, Oakdale
July 27th Saratoga Springs, New York, Performing Arts
July 28-Aug. 5th Ararwick, Rhode Island, Music Theater
Aug. 4-9th Holmdel, New Jersey, Garden State Arts
Aug. 10-11th Columbia, Maryland
Aug. 12-13th Chicago, Illinois-Ravinia
Aug. 15th – Duluth, Minn. – Arena
Aug. 16th – Omaha, Neb. – Civic Auditorium
Aug. 17th – Minneapolis, Minn. – Auditorium
Aug. 19th thru 25th – Westchester, N.Y. – Premiere Theater
Aug. 21-Sep. 5th Las Vegas, Nevada-Riviera
The 1975 Japanese and European Tour Dates have been canceled.
1976
Feb-March – Japanese Tour
May 29th, CALIFORNIA; Fesno, Selland Arena
June 10-23th NEVADA; Lake Tahoe, Sahara
July 1-7th NEVADE; Las Vegas, Riviera
July 27th CANADA; Edmonton, Coliseum
July 29th MINNEAPOLIS; Northrup, Auditorium
July 30th WISCONSIN; Madison, Cane County Auditorium
July 31st ILLINOIS; Chicago, Arie Crown Theater
AUGUST 1st ILLINOIS; Chicago, Arie Crown Theater
August 2nd INDIANA; Indianapolis, Convention Center
August 3rd INDIANA; Fort Wayne, Coliseum
August 4th MICHIGAN; Kalamazoo, Wings Stadium
August 5,6,7th CANADA; Toronto, O'Keefe Center
August 8th NEW YORK; Binghampton, Broome County Memorial auditorium
August 9th MASSACHUSETTS; Fitchburg, Wallace Civic Center (Tentative)
August 10th NEW YORK; Saratoga Springs, Performing Arts Center
August 12&13th MICHIGN; Pine Knob, Pine Knob Theater
August 28th through Sep. 8th NEVEDA; Las Vegas, Riviera
Oct. 13th Rexburg, Idaho, Ricks College
Oct. 14th Saltlake City, Utah, University, of Utah
Oct. 15th Logan, Utah, Utah State University
Oct. 16th Pravo, Utah Brigham Young University
Oct. 19th Searcy, Arkansas, Harding College
Oct. 20th Longview, Texas, Longview H. S. Auditorium
Oct. 21 Nocogdoches, Texas, Stephen Austin Coliseum
Oct. 22 Huntsville, Texas, Sam Houston State University
Oct. 23rd Norman, Oklahoma
Oct. 24th Houston, Texas, University of Texas
Oct. 25th Lake Charles, Louisiana, Civic Auditorium
Nov. 10th Munich, Germany, Deutches Museum
Nov. 12th Dusseldorf, Germany,
Nov. 13th Hamburg, Germany, Congress Centrum
Nov. 14th Amsterdam, Holland, Eden Hall
Nov. 15th Frankfurt. Germany
Nov. 16th Edinburgh, Scotland
Nov. 18th Manchester, U.K., A.B.C.
Nov. 19th Blackpool, U.K., Opera House
Nov. 20th Birmingham, U.K., Hippodrome
Nov. 22-27th London, Palladium
Nov. 25th London, BBC TV Special
1977
August 2nd-15th, Harrah's Club, Lake Tahoe, Nevada
October 12th-2lst, Tour of Japan
November 2nd and 3rd, Manila, Philippines
November 5th-l7th, Tour or Australia
November 24th and 25th, Sheraton Ballroom. Honolulu, Hawaii
December 24 through January 4, MGM Grand – Las Vegas, Nevada
1978
March 2-15, MGM Grand – Las Vegas, Nevada
June 29 through July 12, MGM Grand – Las Vegas, Nevada
August 31 through September 13, MGM Grand – Las Vegas, Nevada
December 3 – The Terrace Theatre, California State University Long Beach, Long Beach, CA
1981
September-October – European Tour, England, Germany, France, Holland (This tour was a tour of television appearances)
October – Brazil (This tour was a tour of television appearances)